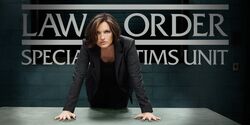 Welcome to the Special Victims Unit Wiki
[
]
The wiki for the country-wide phenomenon, Law and Order: Special Victims Unit.
Olivia Benson was a female senior Detective, sergeant, and captain of the Special Victims Unit at the New York Police Department. Throughout her years as a detective, she worked side-by-side with Nick Amaro, Elliot Stabler, Odafin Tutola, John Munch, and Amanda Rollins.
Born some years before 1999 in New York City, Benson joined the Police Academy after finding out that she was the product of her mother's rape. Quickly, she rose through the ranks of the NYPD, eventually being assigned to the 16th Precinct's Special Victims Unit. Being put with senior detective Elliot Stabler, Benson, throughout the years, became more influential when it came to working with the female victims and would become a voice of reason for subjects ranging from rape to even abortion(s). After twelve years of working with Stabler, Benson took on Nick Amaro as her junior detective as she became a senior detective.
Eventually, her superiors, Donald Cragen and John Munch, left SVU, leaving Benson to become the sergeant and captain of the squad. Shortly after her repositioning in the team, she began to face many obstacles, including her kidnapping by William Lewis and being forced from her position as captain.
---
Template:Featured case
---
Template:Featured episode
Latest activity
[
]
Photos and videos are a great way to add visuals to your wiki. Find videos about your topic by exploring Wikia's Video Library.